Coming ahead of some stiff competition, AsIAm and Supervalu have won the Corporate Charity Partnership of the Year award. AsIAm and SuperValu have a strong partnership in supporting communities to become autism-friendly. Our partnership has seen the roll-out of Autism-Friendly Shopping in over 100 SuperValu stores across Ireland. This is supplemented with  the development of the Autism-Friendly Town Initiative. We believe communities that are fully accessible for autistic people are stronger, more sustainable places to live.
Through an innovative and exciting partnership, AsIAm and SuperValu, working closely together and building progress in increments, have designed and rolled out their Autism Friendly Shopping evenings to over 100 SuperValu stores; helped to raise awareness and understanding of Autism through a social video series; and partnered to bring Autism awareness evening roadshow to over 20 locations across the country.
Given that sights, sounds and smells can be particularly overwhelming for people on the spectrum, sensory accommodations were especially crucial to making Autism-Friendly spaces. Supervalue introduced Autism Friendly Shopping on certain nights of the week. To facilitate this they dim the lights and keep noise (including music) to a minimum.
The process of selecting groceries itself has been made easier through the use of the ALF Trolley which guides shoppers through the process. Additionally, Supervalu helped promote Autism-Friendly hygiene products as recommended by Occupational Therapist Ines Lawlor.
Furthermore, for those members of our community who find shopping to overwhelming Supervalu introduced free home delivery to all autistic customers for the entire month of April (Autism Awareness Month).
Aside from shopping, AsIAm and Supervalu have paid more attention to making broader autism-friendly communities. Through the collaboration, we supported Clonakilty to become Ireland's first autism-friendly town through measures such as autism friendly staff training and service dog friendly spaces.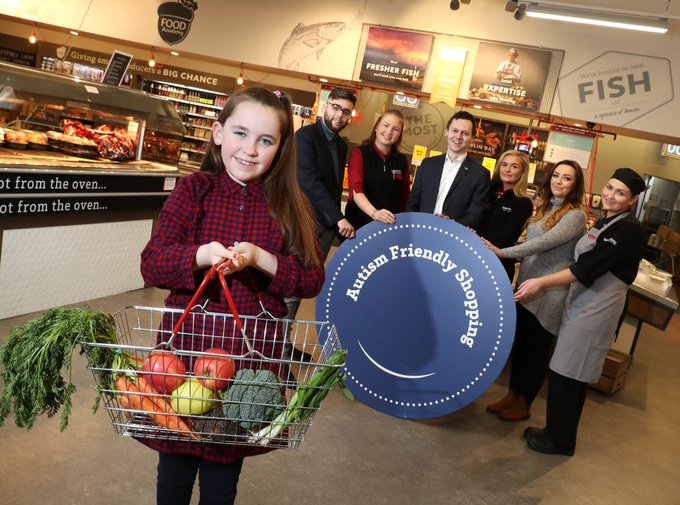 As our CEO Adam Harris states, supports for autism shouldn't be tokenistic, but widespread and with lasting visible changes. These changes are only possible through our partnership with Supervalu.