CEO and Founder of AsIAm, Adam Harris, took the stage to address the 13th Autism Europe International Congress. Appropriate to this year's theme, 'A Happy Journey Through Life,' the talk broke down the barriers an autistic person faces throughout their life and opportunities to support their participation in society.
Looking Back: How AsIAm Came to Be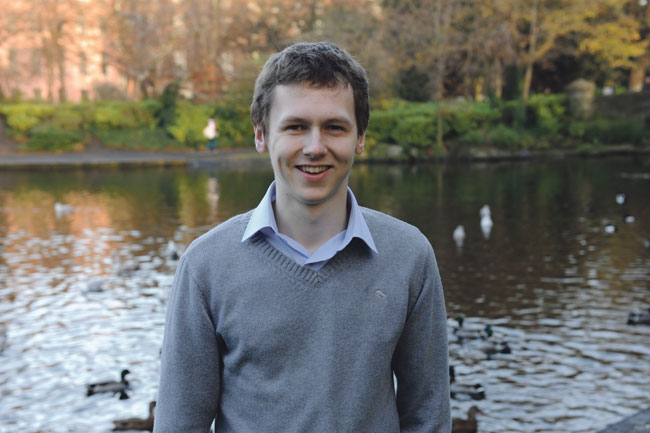 He began by explaining his own autistic experience. Adam quickly stood out as different to his older siblings: He could already speak in full sentences by his first birthday! But differences became more noticeable: his interests weren't shared by his peers and he frequently became overwhelmed by the noise in coffee shops. Diagnosed at five years old, Adam spent the first three years of school in special education. He observed the choice at the time was special education away from your peers, or mainstream education with no support. Although, his family took a strengths-based approach, he would conceal his diagnosis when he entered mainstream education.
This wasn't because of any shame about being autistic, but due to the way people treated him when they knew his diagnosis. Thankfully with the support of a good teacher, Adam began making friends and embracing his autistic identity. Nevertheless, he noticed that despite movement of autistic people into mainstream settings, there still wasn't good understanding of the condition. Determined to do something, Adam began to write a blog that evolved into the organization AsIAm is today.
He summarizes the work of AsIAm as building a bridge: while it's important to provide supports to autistic people, they shouldn't be the only target. Support needs to be provided to society, community and employers to help remove invisible barriers. Arguing that 'A little knowledge is a dangerous thing,' Harris points out that being aware of something isn't the same as understanding it. For example, we can be aware of Mandarin as a language but that doesn't mean we can speak it. He stresses that society must understand no autistic people are the same and that autism doesn't 'look like' anything. What is needed are reasonable accommodations, not sympathy, stigma or disempowerment. AsIAm argues autism should be viewed through a human rights lens, rather than just disability.
Working for the Same Chance
The Same Chance report, measured the opinions of the general public and autism community. There were positives
to the report
– It found that people who personally knew autistic people were more likely to associate it with positive attributes than with negative stereotype. -18-25 year old participants had overwhelmingly positive responses: inclusive education has worked in combatting stigma.
-Respondents supported change, especially for the government to do something.
-While they agreed with inclusion in principle, there was hesitancy in putting it to practice, such as employing autistic people.
-In the same report, 89% of the autism community believed the Irish public doesn't understand autism and only 10% felt workplaces were inclusive of autistic people.
-Autism is considered through the context of accessibility: if there are barriers in communication, predictability, sensory processing and judgement, autistic people are more likely so suffer from bullying, mental health difficulties and unemployment.
-In contrast, removing and reducing these barriers is within all of our control.
-Covid-19 pandemic is an opportunity for change. Remote working now makes it possible for autistic people to pursue employment flexibly. PPE showed wearing masks can be normalized: why not ear defenders? Clear visual prompts were introduced for social distancing and should be possible after the pandemic.
AsIAm's Strategies to Support Autistic Adults
-Many autistic people never enter college because it isn't offered as an option. Many drop out of college even though they are excelling academically. In some cases, autistic people complete their degree with distinction but struggle to find employment: AsIAm's Autism Friendly University Project. .
-After surveying students, staff and conducting a sensory audit in DCU, the results showed many autistic students felt isolated and overwhelmed by the campus. Based on this, AsIAm introduced the nine principles of the Autism Friendly University.
-AsIAm and IrishJobs: Autism in the Workplace report found 90% of autistic people had difficulty getting in job and 75% felt they can't disclose their diagnosis
-Barriers:  job interview process, outdated perceptions of autism and inflexible communication.
-In the same report, many employers express willingness to hire autistic employees, but uncertainty on how to accomplish it. For instance, although the government provides supports for autistic workers the employers either weren't aware of these or were not utilizing them.
-Solution: Same Chance Toolkit, contained guidance creating more inclusive workplace, attracting talent and conducting accessible job interviews and onboarding. Joined by the Same Chance Commitment, which saw leading employers sign a commitment to taking training from AsIAm and hiring autistic workers.
-Many of these suggestions amounted to considering autistic communication, sensory differences and need for structure. The Toolkit was
– AsIAm's Careers Clinics see autistic jobseekers partnered with IrishJobs.ie to receive support. This includes guidance in looking for the right careers, CV preparation and job interviews followed by one-on-on support.
-AsIAm hopes to combine the Careers Clinic with the Same Chance Commitment to create 1000 jobs for autistic people by the end of 2025