Fionn Hamill: The Challenge of Change in a New School Year
Our Friend and Frequent Blogger, Fionn Hamill, writes on the challenges of change in the new school year from his point of view, as a student with Autism
Life:
Life is overall good with me, it is difficult though. That's just me being ME- means it's difficult sometimes. It just seems that there are ALWAYS changes in what I know about, and I have to keep adjusting to new behaviours and new challenges and stuff. And for me, I have to take more time to adjust, and it takes Mum and Dad's help – and I know that I don't mean that in a babyish way, but I will always need help to learn how to ADAPT socially, and stay SAFE and HAPPY as I grow older.
Socialising:
THIS is a bit ironic. When I was younger I had no idea how to make friends – but I learned that, and it really did change my life.
I now have LOTS of friends from all sorts of places: football, pantomime, choir, school, town and going to matches.
The problem now is a social media.
In REAL LIFE I understand what is a good friend:
people only need a few REAL friends
who you could trust to be there for you 100%
who would be there if I needed them
who would help me if I needed them.
Then there are lots of people you enjoy chatting with . They are friends, but you don't know them in the same way. Then there is SNAPCHAT. I am not the only person who talks to people on SnapChat that they don't know in real life, but every so often I need to remember that I only know these people casually, like I don't know who they really are, or where from, or any details – but it is ok.
But for someone like me, I have to keep SAFE RULES online and in REALITY, and be really careful with keeping a good friend with me.
Back to school:
Before going back to school  every year, everybody worries about it a bit. Autistic people worry more than others do – as they like to know everything that will be there in ADVANCE.
This year is Year 11 – so its a transition from Key Stage 3 to 4, this means:
new class – form group
new teachers
new timetable
less subjects
new folders
new uniform
new rules.
some boys in my class I do not know at all.
My classroom assistant is the same – which is a RELIEF. It means she can still keep an eye out for me, and be there if I need help with work, homework or anything like that, especially organisation!
I hate that the classes have to change, because you have a group of boys for 3 years who get to know you and then you split that up. I was dreading this. Last week, a few of my friends told me they knew their classes, and the weird thing was they were right! That annoyed me, because I didn't have a clue who was in mine.
Yesterday I got a phone call from the Special Needs Coordination, in my school, who told me my class names and my new teachers s that I wouldn't be shocked or disappointed the next day.
BACK TODAY:
Today was all right, i was prepared – that makes me feel a bit more relaxed.
I don't panic much in the school,  like today i wasn't sure where  to go first thing, but now that I am so used to the school, I just went to the foyer and a load of my friends were there and they were all checking their new class lists and teasing each other about who got the worst group!.
So in my new form class, I have 3 or 4 people I feel totally comfortable with from my old class. There are not many in the group who I will have difficulties getting on with. So overall it's good enough :
It's not FANTASTIC – it's not BAD.
I got into all the subjects I picked- and I am happy enough with the teachers I got- except for maybe one subject (which of course I am not going to say which one it is, in case one of my teachers is reading this, but probably not) but hopefully that will work out too.
There are other changes which I must plan for too:
There are organising changes
Work in folders
File pages
Hardback books
6 new teachers to get used to! (I HATE changing teachers when I get used to them.)
This will cause me bother as my organisation is pretty bad, and that's a lot of change from just using exercise books and having all the nice colour coded stuff – now i don't have it 🙁
There is a new really well laid out diary from school to home – room for info on each subject and a how the day went section. Our school is really helpful that way because without Mrs D's book I would be lost!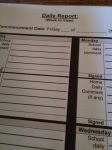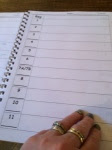 I'm nervous about even the new timetable!
Like on some days I have so few subjects, but MORE of the ones that I do have! That will, I think, be a challenge for my concentration- and I know i have to adapt. If it is a problem I can move up closer to the teacher. Plus Mrs D is probably on extra alert when there is a lot of new stuff!
It is going to take me a while to get it right but I kinda have to get it right soon enough.
WHY DOES EVERY THING HAVE TO CHANGE…when you are used to it?
For more from Fionn, check out his blog on autisticandproud.wordpress.com
Image courtesy of mrpuen / FreeDigitalPhotos.net
Can this be improved?
Contact
webeditor@asiam.ie
if you have any suggestions for this article.
Top