Welcome to our Community Support events page. Over the course of the next twelve months AsIAm are facilitating 24 community seminars. These seminars are kindly funded and supported by SuperValu.
Each seminar will focus on a different topic and theme, all of which have been chosen by the autism community from a survey we commissioned in October 2018. Read more about our Community Support events here.
Each of our Community Support events will be live streamed and recorded as much as possible. This page will be updated regularly with recordings and speaker presentations from events (with kind permission from our speakers), which will be available to access here.
For upcoming Community Support events, please check our Events Calendar and News & Blog.
Autism and Access To Healthcare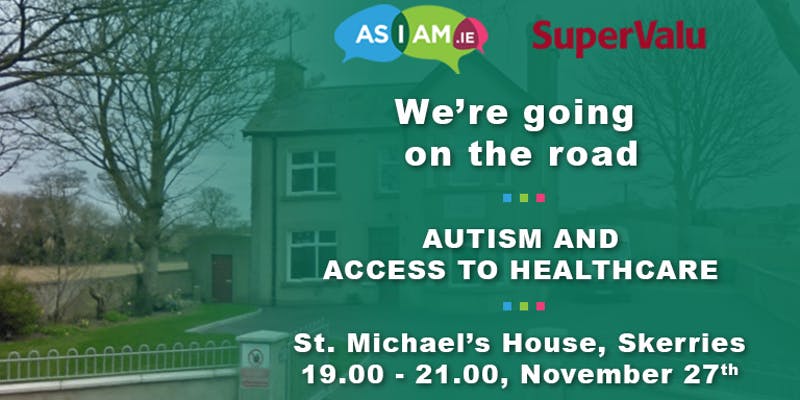 Dr. Mary Doherty's presentation
Dr. Caoimhinn Mac Giolla Phadraig's presentation 
Autism & Communication: Preverbal and Verbal
Presentation on Verbal Communication
Presentation on Pre-Verbal Communication  
Autism and Employment: Pathways to Work
Autism: Financial And Legal Planning 2/10/19
 Autism and Sibshops 11/09/2019
Transitioning to College- 07/08/2019- Galway
Autism and Socialising: Children and Early Teens – 12/06/2019 – Clare
*****
Adult Diagnosis – 10/5/2019 – Clare
*****
Behaviour and Communication by Yvonne Newbold – 4/4/2019
*****
Advocating Effectively For Your Child by Yvonne Newbold – 3/4/2019
*****
Parental Wellness and Selfcare – 12/3/2019 – Tipperary
*****
Autism and Play: Promises and Possibilities – 18/2/2019 – Limerick
*****
Puberty and Sexuality – 7/2/2019 – Wicklow
*****
Independent Living and Housing – 23/1/2019 – Meath
*****
Autism and the Law – 13/12/2018 – Dublin
*****
Autism in the Home – 4/12/2018 – Cork